Synopsis of SunMoney Strategy


A world comprised of self-reliant communities empowered to develop and protect their human and natural resources is a resilient, sustainable world. Reconomy works to accomplish this through the innovation of discounting local renewable energy when purchased with SunMoney [5] local currency.

This strategy brings money and energy - two of the most powerful development tools - directly to every particpating community. And unlike national money, local money stays in communities, going around and around. Just as with any kind of recycling, this creates a value loop [6] [7], and with this value loop communities are recyling a money that has added value from a discount on energy, building their economic and energy wealth.

This added value from the energy discount is the key because it creates a demand for the local currency. This impels those who seek it to enter their local marketplaces by developing local resources. The result is the creation of community-controlled marketplaces that not only provide continuous access to money and energy but through this access enable development of local water, agriculture, shelter, sanitation, transportation, childcare, education, music, art, etc - any and every product and service that can be produced locally.

But perhaps most importantly, true local marketplaces tend to value the uniqueness of individuals over their worth as components in a global monoculture, building unique communities founded on the intrinsic worth of individuals.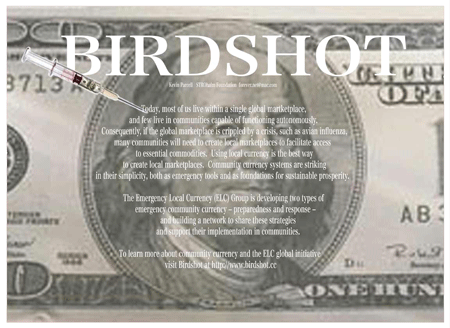 In 2006, the SunMoney strategy was introduced as "The Birdshot Global Initiative" at the first International Disaster and Risk Conference, as the beginning of a global effort to create an economic emergency preparedness and response strategy that will work in any community. The Reconomy project's People Power Stations is the result of that endeavor.

We're focusing our pilots on developed communities as well as emerging communities, to create a roadmap to self-reliance and sustainable prosperity for every community.

In off-grid communities we begin with pedal-power to include those at the very bottom of the economic pyramid in the People Power Station (PPS) marketplaces. As energy demand grows in these communities, and when beginning in more-developed communities, we seamlessly integrate solar, small wind, and other neighborhood-scale energy solutions. And each People Power Station includes access to our mobile-based marketplace where communities trade goods and services locally and globally.







"The most important decision we make is whether we believe we live in a friendly or hostile Universe." Albert Einstein

Home l Sustainable Prosperity l SunMoney l People Power Stations l Global Timebank l Summary l References l Resources